Wow I'm on a role here last post less than a month ago LOL.. That's a new record for me, I hope to be able to keep up like this. I do enjoy sitting for a moment and writing something be it long or short. Today though maybe short.
I decided recently to say the heck with it and pulled out the old trusty sewing machine and get to some new items. Been in the mood for fall decor so I decided to sew up some Halloween/fall items. I have 2 done and 2 more I'm hoping to get done tonight. I have this one listed already on Ebay Witches hat with Pumpkins and mice, Loved how it came out. I love this hat pattern and been wanting to add some pumpkins for a while. I love the mice on it, If this hat could tell a story it might go something like this..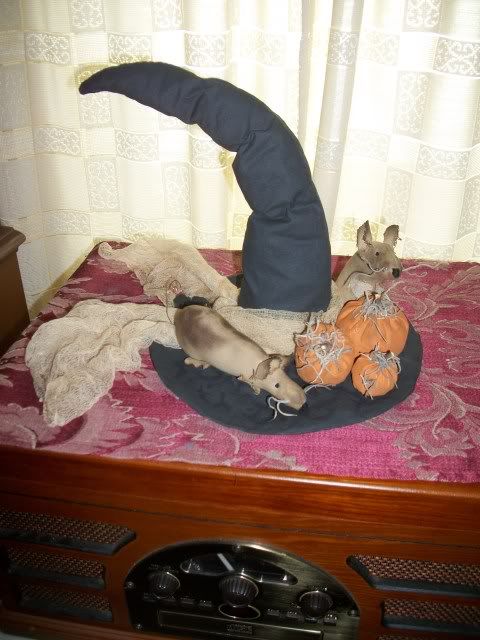 Poor young witch, who's always late, was on her way to the weekly Witches meeting " flying at almost super speed on her broom, trying to make it there on time and not be late yet again, forgot to hold tight to her hat. It flew off her and fluttered down into the woods below, she sped off knowing she couldn't be late. As the hat made it's way to the through the almost bare trees below and almost landing on an old brown screech owl, a gust of wind guided it to its final destination at the end of a hollowed out tree trunk. Where 2 little mice where gathering some pumpkins for a Fall harvest festival.They looked at the hat and thought how great would this be for the festival A real Witches hat. They even though maybe of making it their home after the festival was done. They put the pumpkins on the hat and pulled it along to a clearing where animals all over where getting ready for a Feast.
Ok I'm not a great story teller but you get the idea LOL. I see something like this every time I've made this hat, but each time a new adventure might be going on with the mice and their meeting with the hat. IDK the things that go on in a mind of a crafter/artist.
I'm working on a pumpkin set from
My Primitive Saltbox,
these are almost complete just a few more touches. Also have another set of Mice, 3 witches these are coming along cute. I'm not sure I will want to part with them.
I'm also trying to de-stash some of my previous craft items. So far things are going well, will have a handful more listed on Ebay all under 5.00 starting bid. I'll post a new post here with more detail.
Ok I think I've blathered long enough LOL Hope you've enjoyed your read. Thanks again for stopping by and taking time out of your day to take a read/look.
KAELA