This week has been a busy one. I've been fixing my neices bathroom. There was some water leaking and the tiles needed to be ripped up and replaced. I am in the process of that now and hope to be done with it soon so I can get back to crafting.


With Christmas coming near and money being tight, My dear Friend Britt has started a new Christmas selling blog, which will have its Grand Opening November 1st. Please stop by to see all the wonderful ladies, including myself's items for under $20.00. There is something for everyone. Just click on the picture to take you there.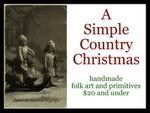 I'm off there is some more items I want to finish up and get posted on the blog soon.
Thank you for taking a peek,
Kaela