Well here we go, I will try to keep this simple and as short as I can. :) which may be hard to do.
It all started several years ago I think back in 96 or 97 a cute little Tortoise shell cat decided to make home under my neighbors shed. I think it was spring time, but I remember we would look out the kitchen window and see who we called later Grandma kitty, bringing back visitors to meet her new litter. Found out she had 2 kittys. Momma kitty a tiger striped and an orange Tabby. As the years went by Grandma kitty didn't have anymore kittens weird, but true. She wasn't spayed either but something didn't allow her to have anymore litters. Well my neighbor would feed these kitty's cause they would help him keep the mice out of his shed, he would brew up his own wine from his grapes every year and mice would be a plenty for some of the sweet nectar. I could only image them bringing cheese and having a party LOL..
Momma kitty and Grandma kitty stuck around and took claim to the neighborhood. Which was fine these "feral" cats were sweet. Momma kitty would eventually have a litter of 3 2 males and 1 female, my neices who were young at the time named all of them. There was Panther all black cat who was very friendly and then Quazzi who was a long haired tuxedo and Sister 1 who was a tiger cat. These cats would go off on their own but Momma and Grandma would stay close by. Some time in 2002 Momma had another litter oddly enough this litter was like the last except for their gender. The tiger cat was a boy, and the 2 others were girls. Again my nieces named them, Puff for the tuxedo, Dot for the black one, she had one dot of white on her chest and Eddy for a boy they liked at the time. I live in the city and the area has had some people who like to keep chicken and such. One day Dot came though our yard with a good 6lb chicken. that was almost as big as she was, she must have caught from several houses down. She had to have lugged this thing over and under fences. Now mind you the properties here are not close, we were lucky in this area to have our neighbors close but at a distance at the same time. Once again a year or so goes by and Momma kitty had another cat, this one a Tortie, called Harlequin because of her facial marking.
Now comes the sad part and I know I will be welling up from time to time as I type this.
Sometime between 2002 and 2004 Grandma kitty went missing. And of course Momma had her last litter, but this time she had 3, 2 girls and 1 boy the one girl was Sister kitty the second. I think this was late summer of 2004. Then in 2005 Puff came around the house hurt, we didn't know what to do. My uncle called the dog pound and they came and picked her up. They had to put her down because her injuries were to severe. They thought she may have been hit by a car. A whole other issue for my street. There are many speeders, but as of late that has cooled down.
Because the Animal control came by they noticed the other cats and asked if they were friendly ect. We told them yes. They asked if they were a bother, they could set traps and take them to the pound and as long as they passed the testing they would get adopted out. We thought that was the best thing to do. These cats weren't what you think the definition of feral is. They didn't charge at you or scratch you or bite. Like any strange animal they needed to get to know you before they could trust you.
Now the traps were set and one by one the kitties were taken away, that is all but 2. Harly and Sister kitty the second. They would avoid the traps like the plague :)
Now the story of Momma kitty was very touching. The city had her spayed and shots taken care of. In that spring when all the cats were taken away, Momma was the last to go. Our dog pound is a little over 2 miles from my house, Highway and heavily traveled streets. They had taken Momma and placed her in room with large childrens sand box for a liter box and a window that was open a little with a screen on it. The heavy aluminum style screen not the fabric type now on the newer windows. They closed the door and wanted her to settle in but when they came back she was gone. The screen was busted and there was no sign of her anywhere.
The next day I woke up early and looked out the kitchen window and over in my neighbors yard there she was. I did a double take, rubbed my eyes was I dreaming, nope. I went outside and called, she came running. It was Momma Oh my goodness this cat came all that way without injury. Later in the afternoon we called the pound and the officer came by told us the story. They were touched by it, to find out she came "home". They offered to spay her if we didn't mind she would be released back into the neighborhood. Of course we had to what a journey she had how could we not. While she recovered she stayed with us. As part of the catch and release program the city had the vet clip her ear in a V to let any other Officer or pound know she'd been fixed and had her shots if she was ever caught again.
Now for the other 2 Harly after my Bandit had passed was taken in but 2 years later a respiratory infection took her. Sister kitty kept clear of anyone, but would stay close to what she knew was her home. And in the last couple of years got closer to humans, Us mainly. You could never grab her and pick her up or pet her like you would your own pet. She kept to herself and would come around for visits. She was a good cat and for being a cat wasn't attacking birds or bringing mice to our door, the opposite for that matter for 2 years this mocking bird would come and peck at her. It would perch itself atop of my neighbors flag pole and if Sister came round under our deck or burning bush this bird would dive bomb and attack her. Not once did I ever see her swat it and that always made me mad. Poor Kitty...
But this past December we hadn't seen her and it had been real cold that month. In the beginning of January there was a break in the weather and school vacation for the kid next door. Who decided to cause trouble that day and build a fort on top of his landord's shed. The shed is close to our property and I caught him throwing something into our yard. When going back to access the damage, I stumbled upon sister kitty nestled in one of her sleeping spots protected from the weather. But sadly she was gone, and as I type this now my eyes are filling. It is sad to think this sweet kitty passed alone. I can only hope and pray God let her come to him peacefully.
It's strange how you think your not attached to these creatures, they are outside animals, strays not yours but the neighborhoods, but when they pass or are hurt or like Momma kitty, have a story to tell. You realize these animals in some way became part of your world.
Sitting at the kitchen table recently my brother mentioned to make a Sister kitty doll. What a great way to honor her and the memory of her family. So here she is Sister kitty and mouse.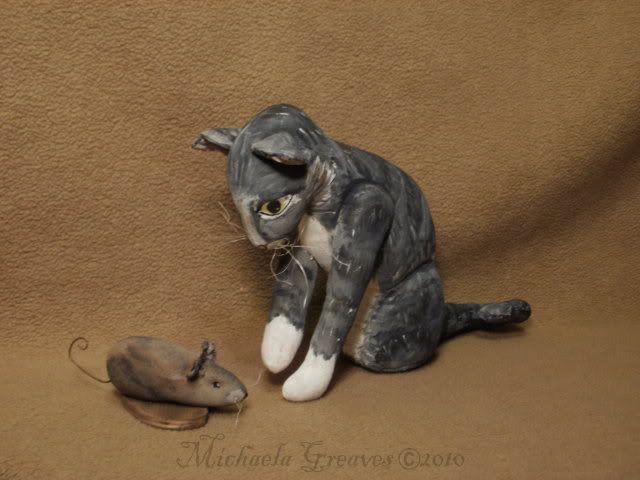 Thank you for taking the time to read this story and for taking a peek at my kitty and mouse doll.
Kaela